4 Questions to Ask About Urgent Care Clinic in Alexandria, VA
If you or your family have a non-life-threatening illness or injury and are in need of urgent medical care come to PACS Urgent Care in Alexandria and meet

Dr. Walid Hammad

to get consultation. Dr. Walid is a member of

American College of Emergency Physician

and

American Board of Emergency Physician

. The conditions urgent care treats include injuries, minor cuts and burns, fever, flu, sprains, diarrhea, lab testing, X-rays and much more. For more information, please

contact us

or

book an appointment

. We are conveniently located at

3481 N. Beauregard Street, Alexandria, VA 22302

.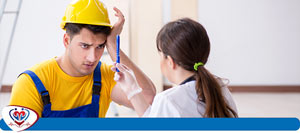 Table of Contents:
When Should I Visit an Urgent Care Clinic?
What Do Urgent Care Clinics Treat?
Do You Have to Pay for Urgent Care Clinics?
Do You Have A Walk-In Urgent Care Clinic Near Me In Alexandria, VA?
Urgent care clinics are an effective and accessible bridge between your primary care physician and the emergency room and are the most appropriate option if you have a minor medical emergency or need other medical services such as lab work or vaccinations. In recent months many urgent care clinics have also started to offer Covid testing and vaccinations.
Urgent care clinics were established in response to the needs of those people who had no access to their primary care doctors at night or on weekends, and have grown significantly in the last 50 years. A major reason for this increase is the monetary savings that can be made when compared to Emergency Rooms.
Convenience is another plus with urgent care clinics, as no appointment is necessary – you simply walk in. Staffed primarily by family care and emergency room physicians, they offer almost all the services found in the traditional doctor's office or emergency room except:
They don't keep medical histories.
They do not have the sophisticated equipment and staff expertise of a hospital emergency room to handle life-threatening conditions.
When Should I Visit an Urgent Care Clinic?

When you have a medical situation, you should see care as soon as possible. If the problem is not life threatening or risks disability, but you cannot see your primary care provider soon enough, an urgent care clinic is the place to go. In general, an emergency condition is one that can permanently impair or endanger your life, so if this is the case dial 911 immediately for any medical problem that appears life-threatening. Otherwise, an urgent care clinic is an effective, accessible and more cost-effective way of receiving timely treatment.

What Do Urgent Care Clinics Treat?

Urgent care clinics treat those medical conditions not considered life-threatening emergencies but that still require care within 24 hours. Some examples include:

• Accidents and falls
• Cuts that bleed too much but may need stitches
• Mild to moderate asthma, and other breathing difficulties
• Lab testing and X-rays
• Minor eye injuries and irritation
• Fever or flu
• Minor broken bones and fractures in the extremities (i.e., fingers or toes)
• Moderate back problems
• Severe sore throat or cough
• Skin rashes and infections
• Sprains and strains
• Urinary tract infections
• Vomiting, diarrhea, or dehydration

Urgent care centers have X-ray machines, lab testing facilities and most of the equipment needed for treating medical conditions ranging from simple things like flu shots or blood-sugar tests to more sophisticated treatment like casting broken bones.

Do You Have to Pay for Urgent Care Clinics?

As urgent care clinics are not bound by the Emergency Medical Treatment and Labor Act most will require some form of payment at the time of treatment. The typical charge at urgent care clinics is somewhere between $100 and $150, but if you are able to, it would be advisable to call ahead to see if you can get an estimate on how much you may be likely to pay. Most health insurance plans do offer cover for urgent care but you will need to pay a deductible or co-payment.

Do You Have A Walk-In Urgent Care Clinic Near Me In Alexandria, VA?

Yes! At PACS (Premier Acute Care Services) in Alexandria, VA we offer the best care available in the area. We offer state of the art services such as onsite laboratory testing, digital radiology and EKG services that can enable us to reach a diagnosis quickly and accurately. We offer extended hours all year round and strive to provide you and your family with a much-needed convenient treatment option when it comes to seeking the medical care you require.

Don't put your life on hold! Visit Urgent Care Clinic Near Me In Alexandria, VA for all your non life threatening injuries or illness. We serve patients from Alexandria VA, Huntington VA, Arlington VA, Ruther Glen VA, Bagdad VA, Athens VA, Doswell VA, and surrounding areas.